The halls of Palazzo Biscari are an ideal location for concerts and cultural activities of all kinds, thus the Palazzo houses the historic Associazione Musicale Etnea (AME) founded in 1973.
Over the last decades, more than 200 concerts and important music festivals have been organized at Palazzo Biscari.
Festival Magie Barocche –  www.magiebarocche.it
EFESTIADI Etcetera Festival – www.efest.it
The Etnea Music Association – AME – was founded in Catania on 27 September 1973, the initiative of Gea Costanzo Moncada Paternò Castello, she immediately offered the Palazzo Biscari halls as a location for opera and concerts. She held its presidency for over 24 years.
Her great love for music and the intuition shared with her friend Francesco Agnello working in Palermo, encouraged her to create a network of "Friends of Music" societies in Sicily, she constantly promoted the AME, a society that now belongs in the ranks of 'historical' italian concert organizations.
"Aristocratic by birth, revolutionary by temperament, passionate in her enthusiasm and civic commitment, Gea Moncada was able to transform simple visions into tangible realities."
During the period in which she was president and also the soul of the society – in close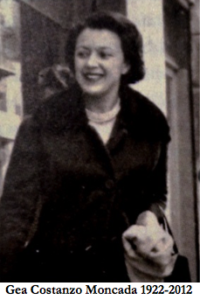 collaboration with the musicologist Salvatore Enrico Failla, artistic director – she opened her family house the Palazzo Biscari halls to a 'foreign' public, a first (max. 200 spectators).
One should not forget to mention the Moncada Paterno Castelo family for permitting their palace to be used to this effect and, more particularly, Donna Iolanda, a kind, generous and sympathetic patron. At every concert, her personal apartment – adjacent to the Saloni/Halls – was transformed into 'bedrooms for the artists,' while the 'salottino' was used by the performers to tune their instruments prior to the concert, relax in during the interval and, at the end of the concert, as a place to receive the compliments of the audience.
Almost 300 AME concerts took place at Palazzo Biscari, some of which were made memorable both by the quality of the performers and by the magnificent acoustics and setting (the fireplaces were lit when it was cold!). These were fundamental years for the formation of the identity of the society and its public, and among the happiest, by comparisan  to the following years, which saw the locations vary due to an increased  audience and to different types of programming.
The headquarters of the Etnea Music Association is still based in Palazzo Biscari. Since 1973, the AME has managed the production of 46 concert seasons and over 1,500 performances.